"Encounter with Japanese tradition Ningyo Joruri Bunraku"
Hello, my name is Takahiro Sato, designer of KUDEN by TAKAHIRO SATO.
Today I would like to invite Mr. Sakiju, a tayu of Ningyo Joruri (puppet theater),
to come and talk to us about various topics. 
Rather than me speaking first, I would like you to introduce yourself, Mr. Sakiju.
Yes. My name is Toyotake-Sakiju tayu, a story tellar of Ningyo Joruri AKA Bunraku.
At first, we'll talk about Ningyo Joruri in this interview.
I also had the opportunity to see a play for the first time the other day.
Also, in the novel I am writing, I have included gidayu-bushi in the entertainment, which will be supervised by Mr.Sakiju.
We became acquainted with each other through
I'm pleased to collaborate with him on a variety of projects.
First of all, I would like to talk about what is called Ningyo Joruri or Bunraku to introduce it to people from overseas and to our visitors.
Ningyo-joruri, bunraku, and the word "tayu" was mentioned.
There are many things that foreign people don't know about.
So, could you please explain the difference between Ningyo-Joruri and Bunraku, and the history of Ningyo-Joruri?
"Ningyo-Joruri" is a genre of performing arts.
"Noh" and "Kabuki" are similar performing arts.
Noh is the oldest one, but Kabuki and Ningyo-Joruri are performing arts of almost the same generation.
Both of these arts flourished during the Genroku era of the Edo period.
It is said that the performing art of ningyo joruri was developed at that time.
One of the current professional groups in the performing art of ningyo joruri is the Bunrakuza.
Is that why it's called Bunraku?
That's right.
It is called Ningyo Joruri or Bunraku,
It's called "Bunraku" "Bunraku" because it is a performing art performed by the Bunrakuza people of the performing art Ningyo Joruri.
When I first started studying it,
I wondered whether ningyo joruri was correct or bunraku.
Or maybe it's a rating, and I'm not sure if it's above or below.
I stuttered a bit when I introduced it today.
I was still feeling that hesitation.
Maybe someone other than me doesn't know the details...
So, ningyo joruri is the base, or rather, a kind of theater discipline...
Would it be correct to say that the main groups active in the ningyo joruri are the members of the Bunrakuza?
Yes. So in the art of ningyo joruri,
there are many troupes throughout Japan today.
Of course there is another Bunraku troupe in Osaka, and there are also troupes in Awaji, Kumamoto, and Nagano prefectures.
They're called Seiwa Bunraku in Kumamoto Prefecture.
I heard that they are going to perform a One Piece.
Kumamoto is the hometown of Eiichiro Oda, the author of One Piece. As they are, there are many different ningyo joruri troupes throughout the country like that.
One of them is a troupe that grew up in Osaka. This is the Bunraku troupe that grew up in Osaka. This is Bunrakuza.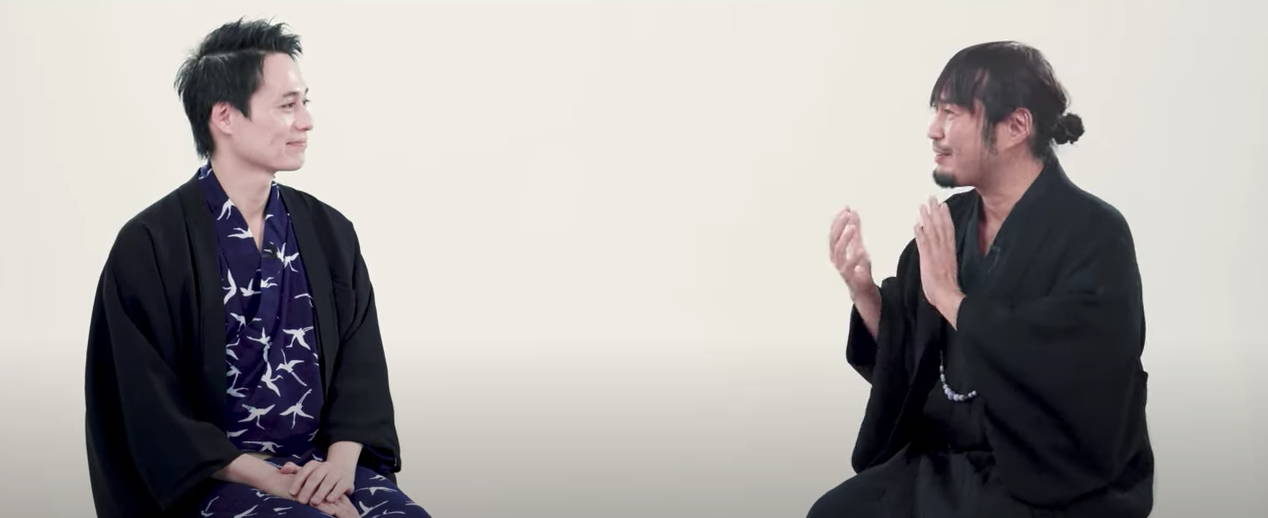 Would you please introduce where you belong to now?
Sure.
I work as a "tayu".
In ningyo joruri, the words "ningyo" and "joruri" are used, first of all, let me tell you about this joruri. In joruri, there is a tayu who tells the story, this is my job, and a shamisen player who plays the shamisen.
The tayu and shamisen player tell the story in joruri.
Then the puppeteer uses the puppets on the front stage.
It's like a puppeteer is doing the voice-over on stage, I think it would be good if you could have that kind of image.
I also had a chance to see it.
At that time, it was "Katsuragawa Renri no Shigarami", It was a pretty...peaky girl.
It's more like a story about a love story between two people of different ages.
Well, it has a sad ending.
When I saw it, Mr.Sakiju was in it, and there was also a shamisen player, tayu performed many characters' scripts, including narration, by himself.
The background music and sound effects were
done by a shamisen player.
Also there were three puppeteers working on one puppet, as I became more and more absorbed in the puppets, I had a very strange experience of not being able to see anything other than the puppets.
This is the entertainment that the townspeople of the past enjoyed.
So, you have played such a role as a tayu...
Yes.
Basically, a tayu's job is to tell a story by himself.
It is said that the origin of the tayu is Biwa-houshi...
I hear it all the time in old stories.
Biwa-houshi are the blind biwa players
who have narrated the tale of the Heike clan
in various places.
So basically, one person narrates the story
and tells all the characters, young and old, male and female.
As time went by, the instrument shifted from the biwa to the shamisen.
Then it was divided into the shamisen and the tayu.
The name "gidayubushi" also came from this process.
It's cool.
I thought "Should I watch the subtitles?"
There are subtitles in the theater.
If possible, I would like to enjoy the performance without looking at the subtitles, but I'd like to watch the subtitles...
I'd like to learn while watching the subtitles.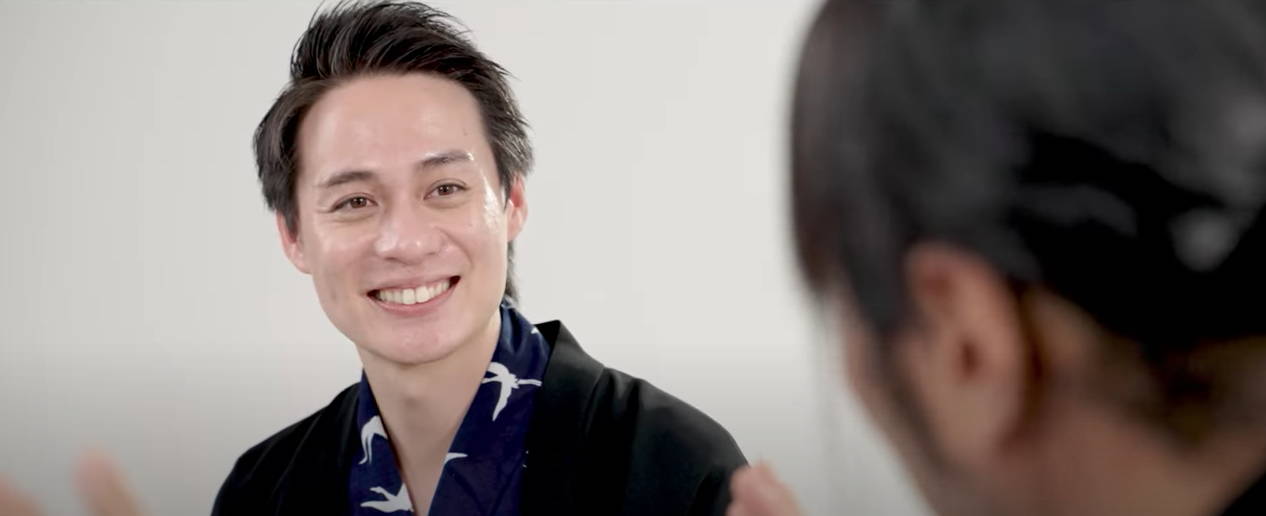 On the other hand, you are young, aren't you?

How old are you now?
I think you are very young in this kind of work.
Why did you enter this world?
What do you think is the attraction of this world?
I mentioned earlier that ningyo joruri is a performing art that grew up in Osaka, I think you will understand if I say it is in the south of Osaka,
Like Namba and Nihonbashi. A man named Takemoto Gidayu created the Takemoto-za and popularized it in a place called Tennoji.
He established the Takemoto-za in what is now Dotonbori.
It gradually spread in Osaka, I was born near there.
You were born in that area.
I was born right in the middle of its hometown,
The current National Bunraku Theatre is located in Osaka,
My parents' house is very close to the theater, so I have been familiar with bunraku since I was a child.
Bunraku Theatre has an event called Oyako Gekijo (Parent and Child Theatre) during summer vacation.
So there is such a thing for children.
There is.
Not the usual "Sonezaki Shinju"(The Love Suicide at Sonezaki) or anything like that.
It's a little early for elementary school students, isn't it?
Like "Saiyuki(Journey to the West)."
Is there such a thing as a "Saiyuki"?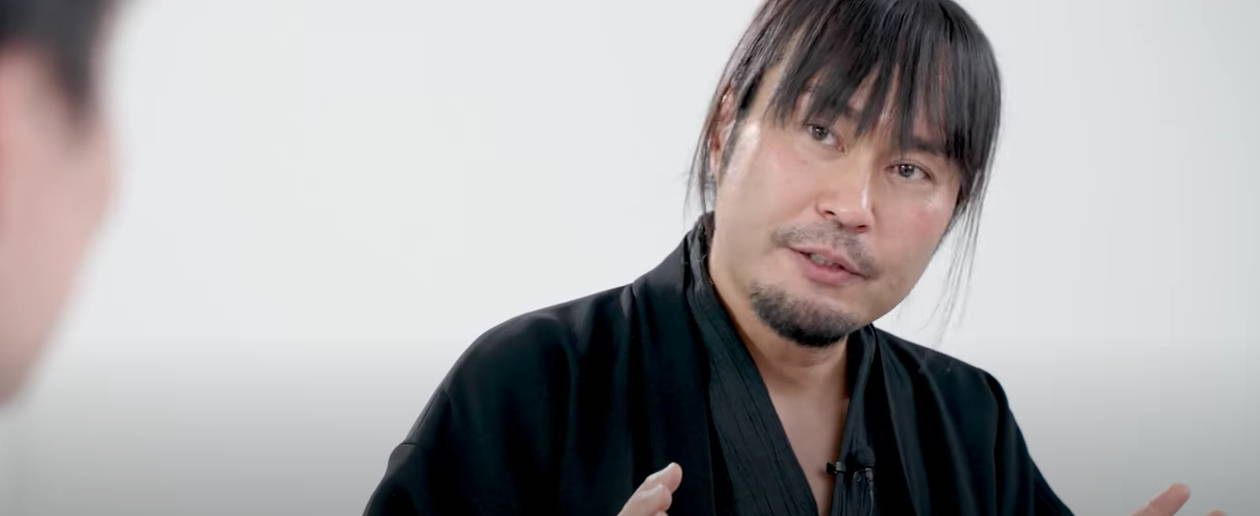 Do they have puppets too?
There is, a puppet of Sun Wukong.
The other day we did "Urikohime".
We also do fairy tales and completely new productions.
We do things that children can enjoy watching during the summer vacation.
I have been watching them since I was a child,
My parents took me.
So it's something you've been familiar with since you were little.
That's right.
The funny thing is, I didn't think of it as a traditional art form, When I was little, I thought it was a local puppet show.
I remember going to see a puppet show when I was a child. At the nearby civic center.
That's how I felt going there.
You didn't realize that was an old tradition.
I didn't know that.
Just when I was in the 5th grade of elementary school,
"Pressure-free education" program started at the school I studied at.
At that time, a class called "Integrated Studies" was added as part of the Pressure-free education program.
It seems that each school was free to create their own curriculum for the integrated study class.
My school decided to include Bunraku, a local traditional performing art called Ningyo Joruri, in the class.
When I was in the 6th grade of elementary school, there was a class in which the children performed an actual bunraku performance over the course of a year.
The tayu, the shamisen player, and the puppeteer you mentioned earlier?
The children are divided into different roles and spend a year on one performance and are taught by actual Bunrakuza performers.
It's amazing. A gifted education.
Yes. We did it.
I don't know how the school figured out how to get them to come to class, that way, when I was in the 6th grade of elementary school, and that's how the class started.
So I was in the first term.
The story we did at that time was about Minamoto no Yoshitsune as a child,
When he was still named Ushiwakamaru,
He met Benkei at Gojo Bridge in Kyoto, they fought, Benkei was defeated by Ushiwakamaru and asked him to be his follower from now on.
The performance of such a meeting scene
is called "Gojobashi no Dan", we practiced that for a year.
That's when I chose tayu.
Great. It's kind of a coincidence.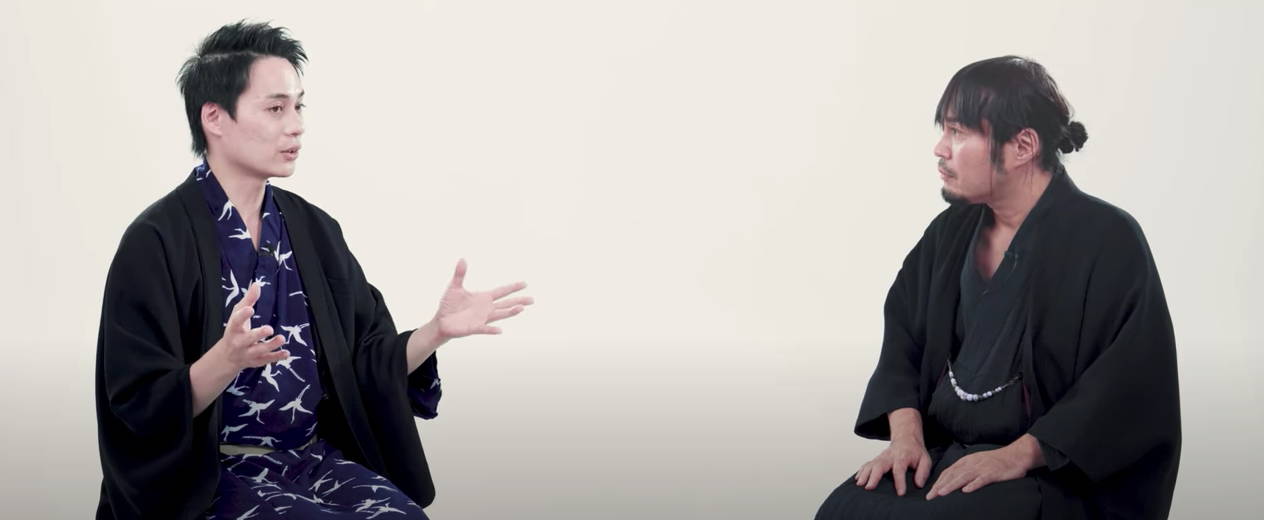 It was really an accumulation of coincidences.
I chose to be a tayu. At the end of November, we gave a presentation in front of parents and younger students.
At that time, I went up on the stage.
The younger students wearing uniform and parents were in the middle of the hall
with the lights going down.
At that moment I thought, "Oh that feels amazing."
You were deeply moved even before you played.
I thought, "How good it feels to be on stage!"
That's why I joined the theatre.
For you, it was more fun than nervousness.
Teaching children for an entire year... it is because the Bunrakuza went to such great efforts that the successors have continued to this day.
It's a great connection.
I can't even say it myself but... it's hard to find...
Did your parents not object when you first said you wanted to enter the field right away?
My parents didn't oppose it. I am grateful for this.
It was because you seemed to be having fun, wasn't it?
They must have thought, "We should let him do this."
At first, where and how were you started?
The person who came to teach that class,
His name is now Takemoto Oritayu.
He had not yet succeeded to the name,
At that time, his name was Toyotake Sakihodayu.
He now goes by the name of Takemoto Oritayu, and he is my senior pupil,
He was still young at the time so I was not yet able to apprentice myself to him, so I joined his current master, who is his teacher.
That's great...
Thank you very much.
— Everything has been passed down from generation to generation through repeated changes.
[Greeting]
A kimono is 'something to wear'. Very simple indeed.
It is inevitable that the style of what we wear changes with the passage of time.
Universality and innovation exist at the same time in the functional beauty of the kimono, which is sublimated into the modern life we live, backed by the functional beauty that accompanied the life in the past.
There is no boundary in the irreversible flow of time between the old and the new, and everything has been passed down from generation to generation through repeated changes.
That is the oral tradition, KUDEN.
Welcome, come on, be with us.

↓Click here to visit our ambassador page