It need about 1 ~ 2 month  after your order confirmation.
It depends on how busy factory is. We'll let you know once it's been decided by mail.
This is order production item. We start to make your jacket after your order is confirmed.  
Material
Face side: 70% triacetate,30% polyester / Inner side:Lining: 100% cupra
Care
-Recommended the dry cleaner.
-Use filter cloth.
The place of production
Made in Japan
SIZE CHART
All size is for unisex
Suitable size for you
*32:32 Try each size(Mens model:164cm)
*03:51 Start About Samurai Mode Jacket measure sheet
Samurai Mode Jacket measure sheet
Download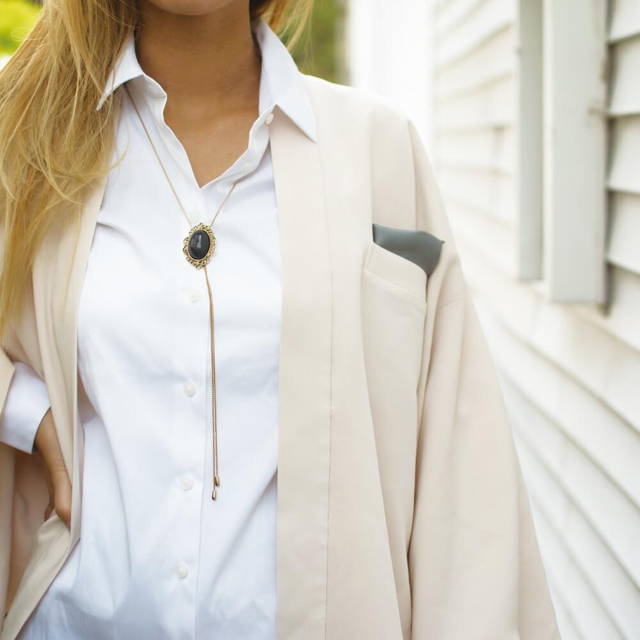 Smartphone, business card, handkerchief... your portable belongings in 3 pockets
Kimono doesn't have any pocket but we live in busy days so what we do first is design the pocket to be suitable to modern lifestyle. The one is on left chest. it' s according to european formal style and design to put handkerchief in. This function makes jacket good to formal occasion. There are inner pocket on each side.We design for both business scene, put a card case or smartphone in , and daily life, put a music player and earphone in.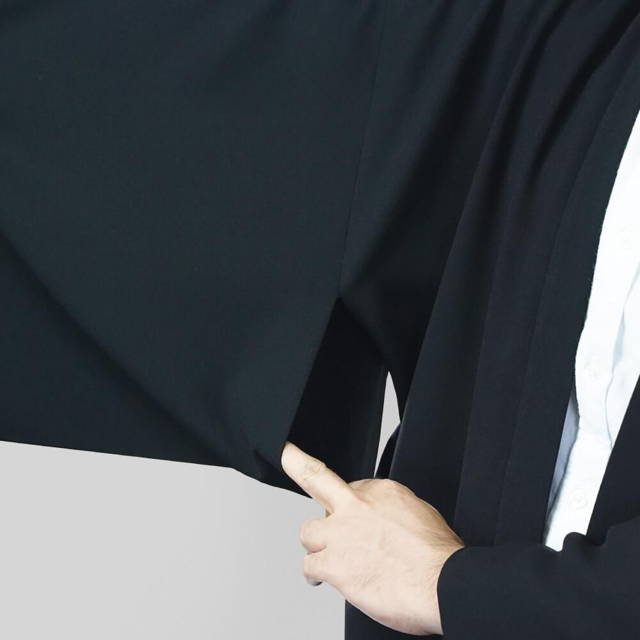 We adopt "miyatsu-guchi" from kimono for comfortable to wear
Even it' s cool looks, uncomfortable wear is not good design for us.We adopt "miyatsu-guchi" , it' s not closed part between sleeve and underarm. It' s traditional style of kimono for women and children.Why is this function not with mens kimono? Some people said this function is to prevent the occurring of the out of shape, especially for children moving around and curvy women so traditional mens KIMONO doesn't have this "miyatsu-guchi" .We adopt it on our jacket because it makes air passages, soft and comfortable. "Miyatsu-guchi" increases in range of motion because of it and also take out the air. 
By reduce the cloth for the armpit, rough and uncomfortable feeling, shape of shoulder looks slim.This jacket support you in formal situation by comfortable to wear.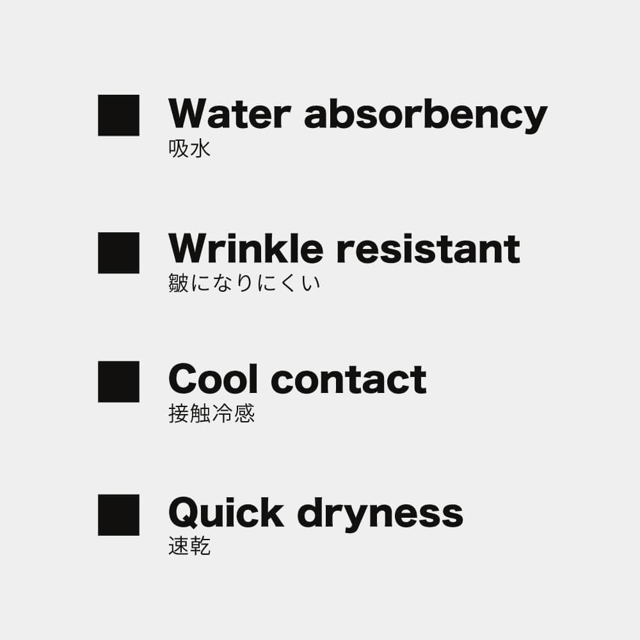 High-functioning fiber makes comfortable
The material of jacket is "Soaron" made of triacetate. In 1967, Japanese company "Mitsubishi Chemical Corporation" produced the Soaron first time. From then, Soaron is always caught the eye of creator because that makes creativity higher. This material receive high commendation from fashion business world. By this fabric, we aim to comfortable jacket like what you want to put your arm through the sleeve.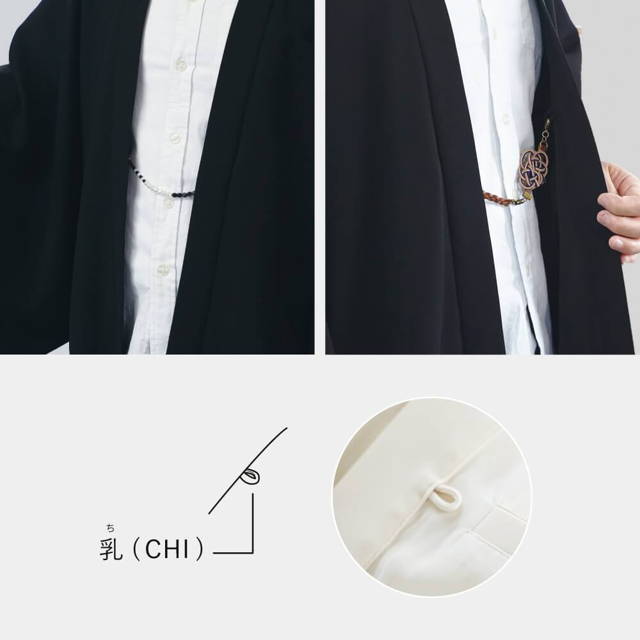 Make your only one jacket by attaching accessory
Japanese traditional haori jacket can be attached haori-himo, haori strings, to close the front panel. The part that attached the haori strings called "Chi", we design Samurai Mode jacket to take over that function.
You can attach a traditional haori strings to a small loop and also your accessory, chain, customize for formal or casual ... enjoy your own style. 
PRICE SHEET
ETHICAL CHART
| | | |
| --- | --- | --- |
| | | To realize those design and function, 100% organic fabric can't do it for now.So we select the triacetate fiber for main fabric.  Triacetate is the semisynthetic fiber that not use the petroleum-derived fiber, it's from paper pulp.  By those reason, our ethical chart for Samurai Mode Jacket gets high point for design and function but not best for natural environment. |
| | | Samurai Mode Jacket is redesign traditional kimono as platform "Next Kimono" to fit the modern daily life. So we valued on design and function, light and breathable, soft touch, beautiful silhouette and drape e.t.c. |
| | | Our ex-sewing partner Marron went bankrupt because of impact from apparel business world. KUDEN thought that it became the reason why we must and want to consider about working environment more stronger and decided we never make "the fashion at the expense of others". We stop the season collection and discount sale without no reason for our support factory's working environment. We must keep high awareness and raise more for working environment. |
Because want you to wear long time
KUDEN want you to wear as long as possible so here we introduce how to care Jacket by yourself. 
If you question about care please contact us.
Samurai Mode Jacket is made of triacetate.
We recommend to keep it with hanger , not use wash machine after wear. Also please do not keep in place exposed to direct sunlight long time. It's better to line dry in shade once a month.
How to care by yourself
Please wet a little by wet towel or spray and dry in shade. If you use chemical detergent, it cause discoloration so we recommend to take care by water and towel. Also please keep mind it's easy to make winkle when it get wet.
It's good to use common hanger for clothes. When you want to hang it up like Kimono hanger, keep unfold sleeves, please attach some stick to your hanger and put through sleeves. Keeping unfold sleeves makes air through and prevent wrinkles.
Because of material, it may cause discoloration and deformation by iron with high temperature. It wrinkle-free fabric but when get wrinkles by wearing and fold, please iron with press cloth by warm or cool temperature. Also please do not use press cloth made of heat-sensitive fabric.
Please avoid to fold sleeves and main front piece because it stand out if get wrinkles. Also please do not put heavy things on it and use hanger as soon as possible. When it short time, like travel, it good to put it in top of your bag.
We can NOT combine custom order products, order products and pre-order products with other products. It incur shipping cost each purchase because it will be shipped different date from usual purchase.
If you want us to combine it, please tell us. If we can, we ship it in accordance with latest date.
・We ship from Japan

But still has delay compared with before, please understand we need a time to deliver. KUDEN takes on part of those cost.
EMS by Japan Post still stop shipping to those counties but we decide to ship by Yamato transport.
So they has different price system. For sample, we think when you buy 1 and 2 need same shipping fee by Yamato Transport.
We're happy if you enjoy our products.
Yamato transport >> https://www.kuronekoyamato.co.jp/ytc/en/send/services/oversea/
EMS price list >> https://www.post.japanpost.jp/int/charge/list/ems_all_en.html


・You receive email about your order. At that time, your oder is not confirm and pay yet. After your order confirm, we ship a purchase within 3 business day ( from Monday to Friday 10:00~15:00 in Japanese time) except custom order products.
・We begin to make your custom order product after your order confirm. Please check how long does it take to complete at each product page.
>>About Custom order
・It is critical that you enter your correct, valid address when placing your order. If our shipping carrier attempts delivery to you and you don't get it because you're not there, wrong address or moved without notifying us, and the package returns back to our warehouse, it will be the buyer's responsibility to pay the shipping fee to reship the order. You will receive a tracking number for your package once it ships out, please keep an eye out.
・Shipping cost based on where delivered your purchase and package weight.
[Japan] 
JPY 1280.00
(For mask, it's JPY 370.00)
 
[Asia]
~1900g : JPY 2900.00+tax
2000g~: JPY 6450.00+tax
[USA/Australia]
~1900g: JPY 4000.00+tax
2000g~: JPY 8850.00+tax

[Canada]
~1900g: JPY 12100.00+tax
2000g~: JPY 18400.00+tax

[Rest of the world]
~1900g: JPY 5000.00+tax
2000g~: JPY 10150.00+tax
 We have Zen point system for all customer and if you earn Zen point, you can get shipping free. It's highly recommended.
・All package has tracking information and we give it after shipping.
The country that temporary suspension of shipping in KUDEN's international shipping list

Thank you for always enjoy and support KUDEN by TAKAHIRO SATO.

From Japan Post, they announce "Temporary suspension of acceptance and delivery delays of mail items destined to various countries/territories".

If you order, for some country and area according to their list, we can't ship to you so please check the list below and reference link.



*If your country doesn't be on the list and you want to shop, please ask us from contact form.
-The name with strikeout is now where we stop shipping.

Australia
Austria
Belgium
Canada
China
Czezh Republic
Denmark
Estonia
Finland
France
Germany
Greece
Hong Kong
Hungary
Iceland
Ireland
Italy
Japan
Malaysia
Netherlands
Norway
Poland
Portugal
Singapore
Spain
Sweden
Switzerland
Taiwan
Turkey
United Arab Emirates
United States of America
United Kingdom
Notice for Email from KUDEN
・We send email from ku-den.jp please set your email account so that you can receive email from us.
If you receive email from us after 3 business day, please check your email account setting and resend us.

・We reply within 3 business day in Japanese time except special leave, in that case we announce at our blog.
●About Tax
・Our prices DO NOT include VAT, GST or other country taxes. Depending on where you are based, you may incur additional fees such as taxes and duties. It may be paid at customer's expense.
・For Japanese customer only, all products include tax.

●About Payment/settlement
・We collect your payment based on JPY.
・You can use Visa, Mastercard, American Express, Apple Pay, Google Pay and PayPal.
・We collect your Payment as JPY but your settlement service may change JPY to your currency by rate at this time you pay so sometime price seems changed but it may be because currency rate or additional tax.
Please understand those payment situation.

●Notice for Email from KUDEN
・We send email from ku-den.jp please set your email account so that you can receive email from us.
If you receive email from us after 3 business day, please check your email account setting and resend us.
・We reply within 3 business day in Japanese time except special leave, in that case we announce at our blog.

Basically we're not accepting product returns, exchange and refund due to customer's request.
Especially for order production, basically no-refundable. 
We need to keep, buy, ask, weave and dye cloth for you. Please understand that matter before you buy.