What remain after more refined the goodness of kimono
If the samurai had lived in nowadays, they could wear the shirt like that, not a usual western shirt.
Remain the goodness of kimono, to more sharp and refined silhouette.
Putting through sleeves of crisp Samurai Mode Shirt, tighten the strings on both side.
At that time, you shape up, straighten yourself, to be dignified feeling and posture.

SPEC
| | |
| --- | --- |
| Material | 100% cotton |
| Care | You can iron by yourself. |
| The place of production | Made in Japan |
SIZE CHART
All size is for unisex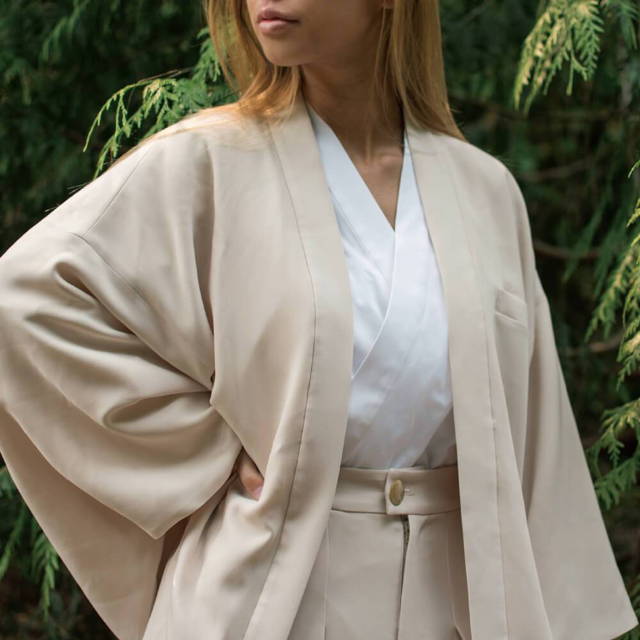 Make looks beauty your shape of decollete from neck by kimono motif collar
We adopt kimono collar to modern European basic shirt. From far view, it looks basic cotton shirt so it's suitable for both formal and casual style. V-necked collar make look beauty.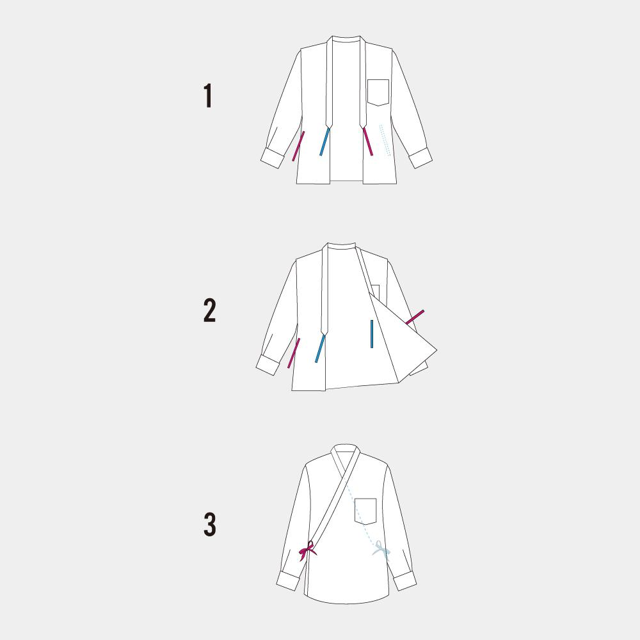 Idea from kimono, 2 adjustable strings
Comfortable to wear with sharp silhouette
You can wear without heavy fastening feel compared to traditional kimono by 2 adjustable strings on your waste around.
PRICE SHEET
ETHICAL CHART



We mark low score for health hazard in Ethical chart because fabric used for our shirt is not made by organic and natural dyed.

But it doesn't mean we don't commit to the fabric.

All team staff talked, checked, tried many fabric.






We selects highly-dense fabric because we don't want to choose a cheap and sheer shirt.So designability point mark high.




We particular about color choice, for mode and stylish color not to damage design image.

Because want you to wear long time
KUDEN want you to wear as long as possible so here we introduce how to care Shirt by yourself. 
If you question about care please contact us.
How to care by yourself
- When you use wash machine
You can use wash machine but please put shirt in Landry net. Please do not wash with something worry about losing color and also color of itself.
Please get the wrinkles out as possible as you can and hang it up. Do not use dryer because shirt may lost its shape.
Please do not iron by high temperature. You don't need press cloth but warm iron. If it gets hard wrinkles, wet a little by spray. If you use hot iron on wet fabric, it may damage.
If you use hanger, please keep it without directly sunshine.
f you fold it, do not right after iron. Please remove dehumidifier by hanging it up and fold a shirt after that. As same as general shirt, put front part like when you wear and fold so it doesn't get creases.
・We ship from Japan
・You receive email about your order. At that time, your oder is not confirm and pay yet. After your order confirm, we ship a purchase within 3 business day ( from Monday to Friday 10:00~15:00 in Japanese time) except custom order products.
・We begin to make your custom order product after your order confirm. Please check how long does it take to complete at each product page.
>>About Custom order
・It is critical that you enter your correct, valid address when placing your order. If our shipping carrier attempts delivery to you and you don't get it because you're not there, wrong address or moved without notifying us, and the package returns back to our warehouse, it will be the buyer's responsibility to pay the shipping fee to reship the order. You will receive a tracking number for your package once it ships out, please keep an eye out.
・Shipping cost based on where delivered your purchase and package weight.
[Japan] 
JPY 1280.00+tax
(For mask, it's JPY 370.00 + tax )
[Rest of the world]
・~2kg : JPY 2500.00+tax
・2kg~ : JPY 3500.00+tax
 We have Zen point system for all customer and if you earn Zen point, you can get shipping free. It's highly recommended.
・All package has tracking information and we give it after shipping.
The country that temporary suspension of shipping in KUDEN's international shipping list
(2020/12/21 UPDATE)
Now our shipping list is changed depend on Japan Post.
Latest information on our blog.
→Temporary suspension of shipping destined to various countries/territories

Thank you for always enjoy and support KUDEN by TAKAHIRO SATO.

From Japan Post, they announce "Temporary suspension of acceptance and delivery delays of mail items destined to various countries/territories".

If you order, for some country and area according to their list, we can't ship to you so please check the list below and reference link.



*If your country doesn't be on the list and you want to shop, please ask us from contact form.
-The name with strikeout is now where we stop shipping.

Australia
Austria
Belgium
Canada
China
Czezh Republic
Denmark
Estonia
Finland
France
Germany
Greece
Hong Kong
Hungary
Iceland
Ireland
Italy
Japan
Malaysia
Netherlands
Norway
Poland
Portugal
Singapore
Spain
Sweden
Switzerland
Taiwan
Turkey
United Arab Emirates
United States of America
United Kingdom
Notice for Email from KUDEN
・We send email from ku-den.jp please set your email account so that you can receive email from us.
If you receive email from us after 3 business day, please check your email account setting and resend us.

・We reply within 3 business day in Japanese time except special leave, in that case we announce at our blog.
About Tax
・Our prices DO NOT include VAT, GST or other country taxes. Depending on where you are based, you may incur additional fees such as taxes and duties. It may be paid at customer's expense.
・For Japanese customer only, your purchase is subject to Japanese tax. It adds on payment method.
About Payment/settlement
・We collect your payment based on JPY.
・You can use Visa, Mastercard, American Express, Apple Pay, Google Pay and PayPal.
・We collect your Payment as JPY but your settlement service may change JPY to your currency by rate at this time you pay so sometime price seems changed but it may be because currency rate or additional tax.
Please understand those payment situation.
Notice for Email from KUDEN
・We send email from ku-den.jp please set your email account so that you can receive email from us.
If you receive email from us after 3 business day, please check your email account setting and resend us.

・We reply within 3 business day in Japanese time except special leave, in that case we announce at our blog.
We can NOT combine custom order products, order products and pre-order products with other products. It incur shipping cost each purchase because it will be shipped different date from usual purchase.
If you want us to combine it, please tell us. If we can, we ship it in accordance with latest date.
Basically we're not accepting product returns, exchange and refund due to customer's request.
Especially for order production, basically no-refundable. 
We need to keep, buy, ask, weave and dye cloth for you. Please understand that matter before you buy.
Kuden Shirt
yes the shirt was well received and I like it very much. only the fabric is quite hard and becomes sickly softer after washing.
非常に着やすいです。
ボタンで閉めてネクタイで首を絞める圧迫感しかないシャツと違うので本当に楽です。 むしろこれが日本のシャツの標準になって欲しいくらいです。
こんなスーツが欲しかったです。
相変わらず生地が良いですし、和服とシャツの良い所を抑えているなぁと。